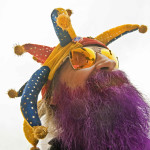 Read Philippians 4:4-7. (See below) In our Traditional Latin Mass reflection for this Scripture reading it says: I will be an apostle of joy. I will radiate that joy "which surpasseth all understanding". For our Catholic religion is a religion of peace and joy, not of fretting and worrying. I will seek joy in the love of God and of neighbor, in the peace of a good conscience, in prayer, in duties well done, in moderation and self-mastery, in companionship with the Eucharistic Christ. All other joys are imperfect, fleeting, and worthless.
As you may know, we like to always put "Charity in Action". To that point here is what came to mind for us to share with you as Apostles of Joy. This is a sound bite from EWTN's Catholic radio program on Jan 29, 2016, from the Terry and Jesse show in California. Terry Barber is interviewing Don about his life and conversion story. Don's personal story of how Our Blessed Mother and Jesus converted him to a life of now 30 years of clean and sober living. Take a listen and comment on what you think.
By the way, have you checked out our video where Don is painting with his beard?! You can explore more videos we are involved in at our video tab  Don't forget tell others!
Philippians 4:4-7 "Rejoice in the Lord always: again, I say, rejoice. Let your modesty be known to all men: the Lord is nigh. Be solicitous about nothing: but in every thing by prayer and supplication, with thanksgiving, let your petitions be made known to God. And the peace of God, which surpasseth all understanding, keep your hearts and minds in Christ Jesus."