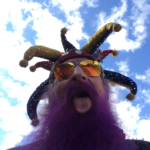 Photo by Monica Baird
"Cool beard, dude!" "Purple is my favorite color!" "Is that beard real?" Just a few comments I hear on a daily basis when I hang out with Don. (Followed by smiles and laughter) If someone sticks around long enough then they might ask "Why do you have a purple beard?"
From the Jester for Jesus, "Purple is a symbol for prayer, penance, and fasting for America. We need to pray for our country."
What does that mean? Well, from this Crazy Catholic Evangelist own words, "It's in reparation for sin; to do penance for myself and America. I'm an apostle of joy; trying to bring unity, happiness, community and to rebuild America. It's also for the heroin epidemic and drug and alcohol addiction. Really, for every form of sin. We need to pray for America."
"Penance is self-sacrifice for the Glory of God." How can you sacrifice?  "Say you are texting 30 minutes a day, cut it down to 25 minutes a day. Make it a simple penance to start. Then offer it up for love of thy neighbor."
How is that going to help America? Don continues, "Because of God's grace. Read Scripture. God honors sacrifice. God honors the sacrifice of His Son who died on the cross, a wicked death. That opened the gates of heaven. To make reparation for our sins."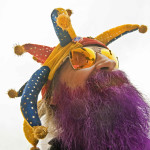 Let's talk about how to love thy neighbor as thy self? "You can only love according to what you have. And do the best you can. Put prayer into action. Get out of yourself and smile at someone. Open the door for someone. Do random acts of kindness. Leave a dollar for the next person in line. Whatever small gesture you can afford-put charity in action. But most of all pray for people."
"Praying for our enemies is the highest form of charity as a Catholic Christian. Pray for our enemies, those in prison, the outcast, our own family and friends, the prostitute, the pimps, the gang bangers, we need to pray for these people. Most of all we need to pray for our own self. How can we love people as our self if you can't love yourself?" More on this subject in the next blog post.
Have you watched our family friendly video of Don painting with his beard?!  The video "Human Paintbrush" has been seen in 143+ countries. You can explore more videos we are involved in at our video tab or see his paintings in our store.
Or Listen to Don's first pod cast on an EWTN radio station describing his major conversion and why he's clean and sober.
Did you see him in the Cleveland Magazine yet? Do you also wonder why Don is a Jester for Jesus? Don't forget tell others!