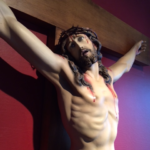 Photo from Monica Baird
We've been blessed with the devotion of going to confession once a week for the past 25 years. What do I mean – have a great devotion? I mean that I want to have a better and more loving relationship with Jesus. I want to love Him more. I want to do His will. How can I do that? By making an examination of conscience, through the Ten Commandments, admit my wrong doing, be forgiven, make reparation, and ask God for the grace not to sin again.
In the secular world, we can find pieces of this devotion. If you have ever been involved in the twelve step world, you'll know that step four is to make an examination of conscience (Made a searching and fearless moral inventory of ourselves) and step five is the confession (Admitted to God, to ourselves, and to another human being the exact nature of our wrongs.)
Here's an excerpt from the devotional we read before Confession:
After our Examination of conscience:
1. Here reflect on the consequences of sin, and especially of mortal sin, which deprives the soul of the life of grace, despoils it of God's friendship, and transforms it into an object of horror in His sight. The soul that is guilty of mortal sin has lost thereby all rights to heaven, and would be presently in hell, if God had not treated it with extreme mercy.
Recall to mind all God's favors, Our Savior's sufferings. His readiness to forgive you! And finally your own past selfishness and ingratitude.
Imagine that you are at the point of death, when the world and its vanities are vanishing from you, and your just and terrible Judge is fast approaching. Your sins will then appear in their true light.
Sobering words to meditate on. Ask Jesus for the grace of Confession.
Thankfully, if you live in the Cleveland Diocese, there's going to be Confession available Weds. March 15th at your nearest Catholic church. Come join us. Be set free from sin, make reparation, and live in harmony once again with God and the community.
Final words of St. Padre Pio, "Any mental picture of your life that focuses on past sins is a lie and thus comes from the devil. Jesus loves you and has forgiven you your sins, so there is no room for having a downcast spirit. Whatever persuades you otherwise is truly a waste of time. "