About Us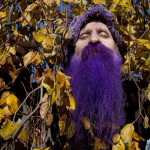 From the camera of Art and Practice
Stoned  On Happiness, LLC We are a Catholic Christian company trying to spread happiness wherever we go.
It's about time we had a company dedicated to being Happy! Here's more on our Mission.
Come see our "Stoned on Happiness" store which features our "Catholic 12 Steps to Sobriety and Holiness" DVD. This DVD is 35 minutes long consisting of 12 "mini" meetings. Each step is featured with a Scripture verse and the advise from Don Matis Jr on how he's kept that step in his 25+ years of sobriety.
Also at the store are Don's bearded paintings and Jester for Jesus t-shirts for sale. Keep coming back since we are continuing to add to the store and website.
Come journey with us on our way to peace, sobriety, joy, holiness, and laughter here on Earth and hopefully our ultimate goal of Eternal life in Heaven.
Don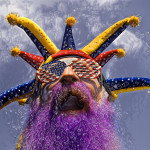 Don is an artist, a BCA pool instructor, a Catholic lay evangelist, and an all out positive laid-back guy. He's someone you'd want on your team if you were fighting the good fight. Don actually paints with his beard. You can find out more information on the story of why here. He loves his Catholic faith and shares the reason for his sobriety with all who want to know. You can find him at Latin Mass; at the local Hudson Bar for his ministry most Thursday, Friday, and Saturday nights; at the local Cigar shop in Stow; or chilling at his favorite place, Hudson Spring's park. If you'd like for him to speak at your next event or seminar, email Monica at monicabaird66@yahoo.com
Monica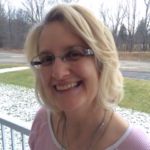 Monica is the owner of Stoned On Happiness LLC. She's been a cradle Catholic and loves her journey with Jesus and His Blessed Mother. Monica is also a Youngevity Independent Marketing Director and enthusiastic about helping people with nutrition and health. See Monica's website about the 90 for Life story. She's a videographer, Citizen journalist with the Akronist.com, advocate of pro-life, lover of all things in Akron Metro and National Park systems, past Board member & videographer for the Stow Symphony Orchestra, and pretty passionate about Connecting Catholics with their Faith. You can find her at a Traditional Latin Mass; networking with the local community; hiking a nature trail; blogging on this blog; and generally hanging with her best friend, Don.
Come visit our home page to see our blog or our online store to see what new artwork is being showcased or The 12 Step DVD.