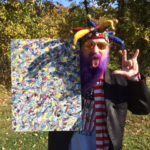 Don gets asked so often, "Why do you paint with your beard?" The date was March 19, 2002, the feast of St Joseph the Worker, and Don was praying and meditating on the Rosary. After 16 years of sobriety, and after his beard turned four years old, Don had an inspiration to utilize his beard as a living paintbrush. He says, " Painting is my way to help me on my journey of sobriety and holiness. My paintings began in trusting in God. Every painting you view is a recovery painting."
Why does he do it? He says, "It's freedom, healing, emotional, and its great exercise!" He continues, " I like to put a smile on someone's face. I enjoy bringing laughter and joy to others. It's a great sense of satisfaction when I can use my God-given talents to give honor and glory to Jesus."
Did you ever look at a painting of Don's? Really looked down deep into the layers of paint? What did you see? "That's it! I want people to wonder, use their imaginations, give the opportunity for people to see beauty," Don states. Don expresses his deepest emotional, mental, physical, and spiritual insights of the world around him as he sees it.  He finally relates, "In a mysterious way, it's an expression of contemplating God and His beauty in everything. My mission is "May His will be done."  Giving HOPE to those who have none. Giving support to those who have lost. Loving Thy Neighbor!"
Haven't you heard the whole story before? Then go here and catch the details.
Have you watched our family friendly video of Don painting with his beard?!  The video "Human Paintbrush" has been seen in 143+ countries. You can explore more videos we are involved in at our video tab
Or Listen to Don's first pod cast on an EWTN radio station describing his major conversion and why he's clean and sober.
Do you also wonder why Don is a Jester for Jesus? Don't forget tell others!