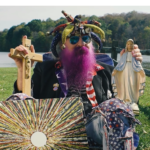 It was a beautiful October afternoon in Hudson, Ohio. Two wonderfully Catholic Church Militant professionals, Monica and Ryan, came down from Detroit, Michigan to discuss with Don his life, conversion, 30+ years of  being sober from alcohol and clean from drugs, his unique recovery paintings, why he's dressed like a Jester for Jesus, his bar ministry, and his vision of how the Catholic church and Catholics need to get involved to be "Charity in Action" and "Live the Gospel" message to those in recovery and others in our own parish pews.
Come watch this beautifully filmed interview from Church Militant and learn some lessons on how to listen, to bring hope, healing and love to your neighbor.
Have you watched our family friendly video of Don painting with his beard?!  The video "Human Paintbrush" has been seen in 143+ countries. You can explore more videos we are involved in at our video tab or see his paintings in our store.
Or Listen to Don's first pod cast on an EWTN radio station describing his major conversion and why he's clean and sober.
Did you see him in the Cleveland Magazine yet? Do you also wonder why Don is a Jester for Jesus? Don't forget tell others!
{ 0 comments }