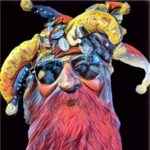 Today is the Feast day of the Conversion of Saint Paul. What a coincidence, it is also the anniversary of my best friend, Don Matis Jr, 32nd year of his conversion. We noticed the date of St Paul's conversion feast day, on our Catholic calendar, this week when Don reminded me of this monumental day in his life.
Have you heard his conversion story? Well he was interviewed by Terry Barbar,  an EWTN radio show host recently. You can listen to Don in his own words on his first podcast here. After being raped at 10 years old, 17 years of drug abuse and all that goes with it, Don had a miracle happen. Jesus sent His Mother to speak only 12 words to Don that changed his life and converted him back to his Catholic faith.
I am so proud of you, Don, for all that you have been through since your conversion, and still you remain Catholic. Not only do you practice your Catholic faith everyday, but you share your love of Jesus with all you meet. That love comes through in your works of charity in action. What works? Have you seen him lately? Look at the cover photo. He dresses like the Jester for Jesus everyday. Why? You can look at his story from the Cleveland Magazine, but also know that he loves to make people laugh. Laugh out loud, laugh at themselves, laugh at the circumstances of life, laugh for laughter's sake.
Fr. O'Connor on EWTN's Mass for today had wonderful words in his sermon about St Paul's conversion and the words we read in Acts chapter 9. He quoted St Augustine, St Cardinal Newmann, Pope Benedict, Mr. Muddridge who became Catholic after many years of hedonism, and educated us that conversion is not easy. After that conversion there was no end to Paul's struggles. He was disbelieved, persecuted, imprisoned, three times almost suffered death, stripped, beaten, finally condemned and died. All in his proclaiming that Jesus Christ is Lord and Savior of us all.  Fr. O'Connor said that each of us must die to self and rise to faith each day. We'll get into Don's story of struggles after his conversion, and his daily sacrifice of self and rising to doing God's will in a future blog.
Finally, Fr. O'Connor said that perhaps St Stephen, the first martyr's prayers could have lead to Paul's conversion. Don quotes his grandmother and several women in his life who prayed rosaries. Hmm…Perhaps the many older ladies who prayed their rosary of prayers, lead to Don's re-version back to the faith?
Today is a day of celebration! Thank you God, and Our Dear Blessed Mother, for bringing Don Matis back to life!
If you have a story or comment of how Don has touched your life, please leave it here. If you'd like to help Don in his daily living and goal of someday helping those in recovery, visit our store and see the latest items for sale. God bless you!
{ 0 comments }