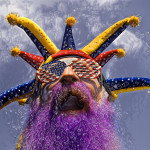 Warning: Due to the graphic nature of this subject, please don't let children read  or hear this article.
You've seen Don with his long purple, almost ZZ Top length, beard. He's told you stories and you know he paints with it, but do you know the devastating story on why he grew it to this length?
Don started to grow his beard out of a tragic event in his life. His ex-wife, Crystal, was brutally murdered on December 10, 1998. She was found on an Indian reservation outside of Tucson, Arizona, on a water treatment plant. Approximately ten hours after she was brutally murdered by a blunt force trauma, a security guard found her body among abandoned stripped cars. After three days, dental records were used to identify the body.  She was 41 years old.
Don was notified by his friend, Big Bill, that Crystal had died. It was God's Providence that Don found out. He found out on a Thursday, and went to the memorial service on Saturday. At the time, he didn't have any means so he promised God that he would grow his beard in solidarity. He would continue to grow his beard until the murderer was captured and brought to justice. The murderer is still at large.
May perpetual light shine upon her soul. May the souls of the faithfully departed rest in peace. Amen!
Tune in tomorrow to find out why he paints with his beard.