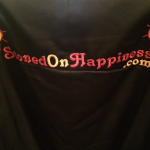 Where did the Stoned On Happiness name come from? There are many layers of meaning here. The obvious meaning is that Don is 29+ years clean and sober. What a happy occasion to be clean and sober! How happy he is that he can participate in living the expression, "It's Great To Be Alive!", if ever you ask him how he's doing.
The next meaning of the name is part of our philosophy, or mission, if you will. The mission is that wherever we go, we like to spread the Love and Joy of Happiness. Where is this happiness rooted in? For us, happiness is rooted in Jesus and our Catholic faith.  In particular, Matthew 16:18-19 decidedly reflects our commitment to the Catholic Church and the Rock of Peter.
We wanted to reflect all of these meanings in our website address.
Let's review: Stoned On Happiness is:
-It's Great To Be Alive!
-It's great to have sober, clean, and healthy thinking!
-It's great to be Catholic!
-It's great to be Happy in all that we live and do!
-We have a great attitude for the Beatitudes!
If you haven't done it yet, check out the "Human Paintbrush" video of Don painting with his beard.
And if you have more time, check out our other videos that contain sobriety tips or just why does he dress like this?