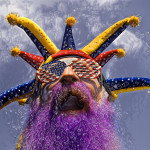 Welcome back to Stoned On Happiness!
We heard our fans and are committed to writing a new blog post every week  from now on.
Come back here almost every Friday to watch a new video, read a new post, or catch up on the latest information about new bearded paintings, tips on sobriety, information on our Catholic faith, or musings from the Jester for Jesus.
Did you ever wonder why does, Don Matis Jr., aka Jester for Jesus, wears a purple beard? Why does he dress like a Jester? Why does he dress in red, white, and blue? Here's the answer in this short video.
Why does he dress like a Jester? posted 5/15/15
Today's video was created in conjunction with Akron Digital Media Center in Akron, OH with Director Blue Green.
By the way, you can explore more videos we are involved in at our video tab. Especially entertaining is the video where Don is painting with his beard!! See you next Friday!