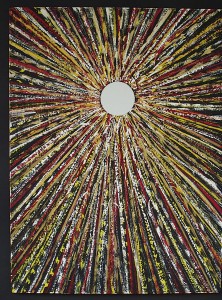 "Real Presence" Painting by Don Matis Jr – Stoned on Happiness
As described in my previous post, Don Matis Jr had an art show at "What's Upstairs?" this past Saturday, January 28th. It consisted of two rooms full of canvas art, prints, and paper watercolor paper acrylic paintings for sale in the midst of this eclectic ever-changing collectibles store and more.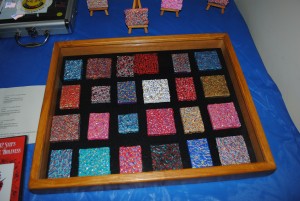 Miniature "Eye popper" Paintings by Don Matis Jr as small as 2″ x 2″ with easel
Don Matis Jr. had a drug and alcohol addiction for 17 years. His major conversion happened January 31, 1986. Because of his conversion experience with the Blessed Mother and his faith life in the Catholic Church, he's been clean and sober for over 25 years.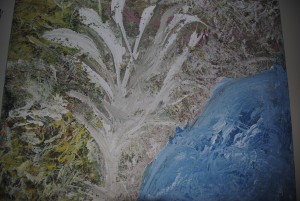 "Landscape" Painting by Don Matis Jr- Stoned On Happiness
Originally, he started to grow his beard in solidarity to a tragic event. His former wife, Crystal, was inexplicably and brutally murdered in Arizona, December, 1998. He didn't have the means to help in the investigation, so he promised God to grow this beard.  He wanted justice not only for his ex-wife and her family's sake, but also for his son, Trey.  He wanted Trey to have closure about his mom's death. The murderer is still at large.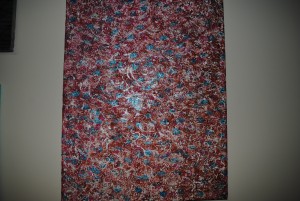 "Peony" Painting by Don Matis Jr – Stoned On Happiness
The call to utilize his beard in producing paintings started March 19, 2002. This date is the Feast day of St. Joseph the Worker. He felt that God was leading him to the art world using his beard to paint.  The story goes, he went to a local arts & crafts store. Walking up and down the aisles, he told God, this is crazy. How am I going to paint with my beard? At that moment he was in the paint section. There was a woman looking to buy paint herself. He asked her what she thought would be good to use to paint with his beard. She said acrylic water based paint. The beginning. Inspired by God before each painting he prays and asks Jesus "What colors do I use? What should I paint?"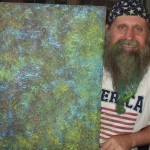 Don Matis Jr painting "Blue Green" painting
In the artist's own words, " My art is a deep expression of my own journey of suffering, pain, joy, and laughter. The art reflects a roller coaster of emotions and experiences from my childhood to the present moment. I go through many feelings, emotions, thoughts, dreams, and hopes while I paint. You can see the reflections of this in my art. When you look at the clouds and see objects, people, plants, animals, etc. that's what you can see in my work. Also, while painting, I enjoy the abstract artwork that I produce. You can view my beard stokes on nearly every piece.  I create this artwork to hopefully inspire others.  I hope you can look and see beyond yourself. I want to let you know that you aren't alone. For you I wish to bring beauty, inspirations, and smiles; to touch your very soul. This art is a great gift from God and I thank Him for it. This gift I want to use to bring happiness, love, peace, healing, faith, and growth in holiness to you."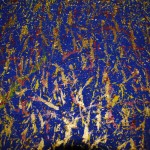 Bearded Painting by Don Matis Jr – Stoned On Happiness
The artwork represented at the show ranged in size from 1 3/4" x 1 3/4" to 16" x 20" to 4' x 4' on canvas. Some works were also made of watercolor paper displayed in a book for sale.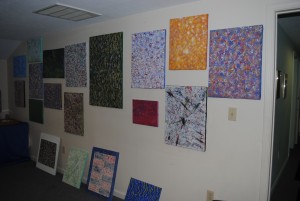 Wall of art at "What's Upstairs" gallery art show – Stoned On Happiness
On a personal note:Don is a living miracle. It stuns the mind to see that he's actively pursing his art, maintaining sobriety, and is always so positive even though he has the worst case of ulcerative colitis the local hospital has seen and all the other tragedies he's been through.
He has a permanent rotating collection of art for sale at "What's Upstairs?" gallery and collectibles store. This collectibles store is located at 5245 Darrow Rd, Suite 4, Hudson OH 44236. You can drop in anytime by calling first 330-412-4666 & open every Saturday 10AM-6PM. You can also order this unique artwork for a custom piece made to your specific colors and size by going to his website Stoned On Happiness. Or email him at Don@StonedOnHappiness.com. More paintings for sale can be ordered directly at his website.
Also view his documentary short film "Human Paintbrush". Check out our "Catholic 12 Steps to Sobriety & Holiness" DVD.